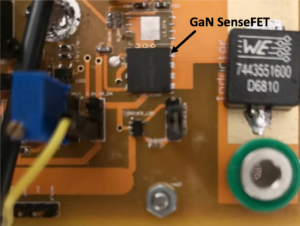 GaNPower International Inc is pleased to congratulate Ms. Weijia Zhang from the Smart Power Integration & Semiconductor Devices Research Group, University of Toronto for receiving the 2019 ISPSD Charitat Young Researcher Award, May 19-23, 2019, Shanghai. GaNPower's monolithic GaN SenseFET was used in her awarding winning paper entitled "A Gate Driver IC for Enhancement Mode GaN Power Transistors with Precise Dead-time Correction."
The SenseFET from GaNPower is rated at 100V/20mOhm with two extra leads for the sensing gate and sensing source. The current of the sensing source is designed to have a small match ratio while providing accurate sensing. However, the novelty of this paper is to use the senseFET in a voltage clamping circuit to detect reverse conduction of the e-mode GaN Low Side output device while protecting the detection circuit from the high voltage swing at the switching node. The duration of this reverse conduction is then corrected by adjusting the dead-time in the following switching cycle to ensure optimum power conversion efficiency.
The bare die before package is shown in the Figure below. The GaN SensingFET is conveniently packaged in a 8×8 8-lead DFN and in Miss Zhang's implementation in a demo PCB is show in a photo in the headline.

For the availability and detailed spec of the SenseFET from GaNPower, please contact information@iganpower.com.
About GaNPower International Inc.
GanPower International Inc. is a privately held Canadian federal corporation based in Vancouver, Canada with a focus on developing gallium nitride (GaN) based technology in power electronics. It was established by a group of professionals who believe that a sustainable future requires a responsible energy conversion solution and GaN material based power electronics holds the key to such a solution. The company mission is to provide world class products of GaN devices, GaN based power ICs and GaN related power system solutions for a greener future.
About Smart Power Integration & Semiconductor Devices Research Group, University of Toronto
Headed by Prof. Wai Tung Ng, the Smart Power Integration & Semiconductor Devices Research Group of University of Toronto is one of very few academic research groups that has world leading activities in all areas of Smart PIC technologies. These include the development of UMOS and EDMOS transistors, CMOS compatible high voltage fabrication processes, integrated DC-DC converters, integrated class-D power amplifiers, display back-lighting units, and motion control circuits. Current work of the group is targeted at portable consumer electronics, telecommunication electronics and automotive applications.