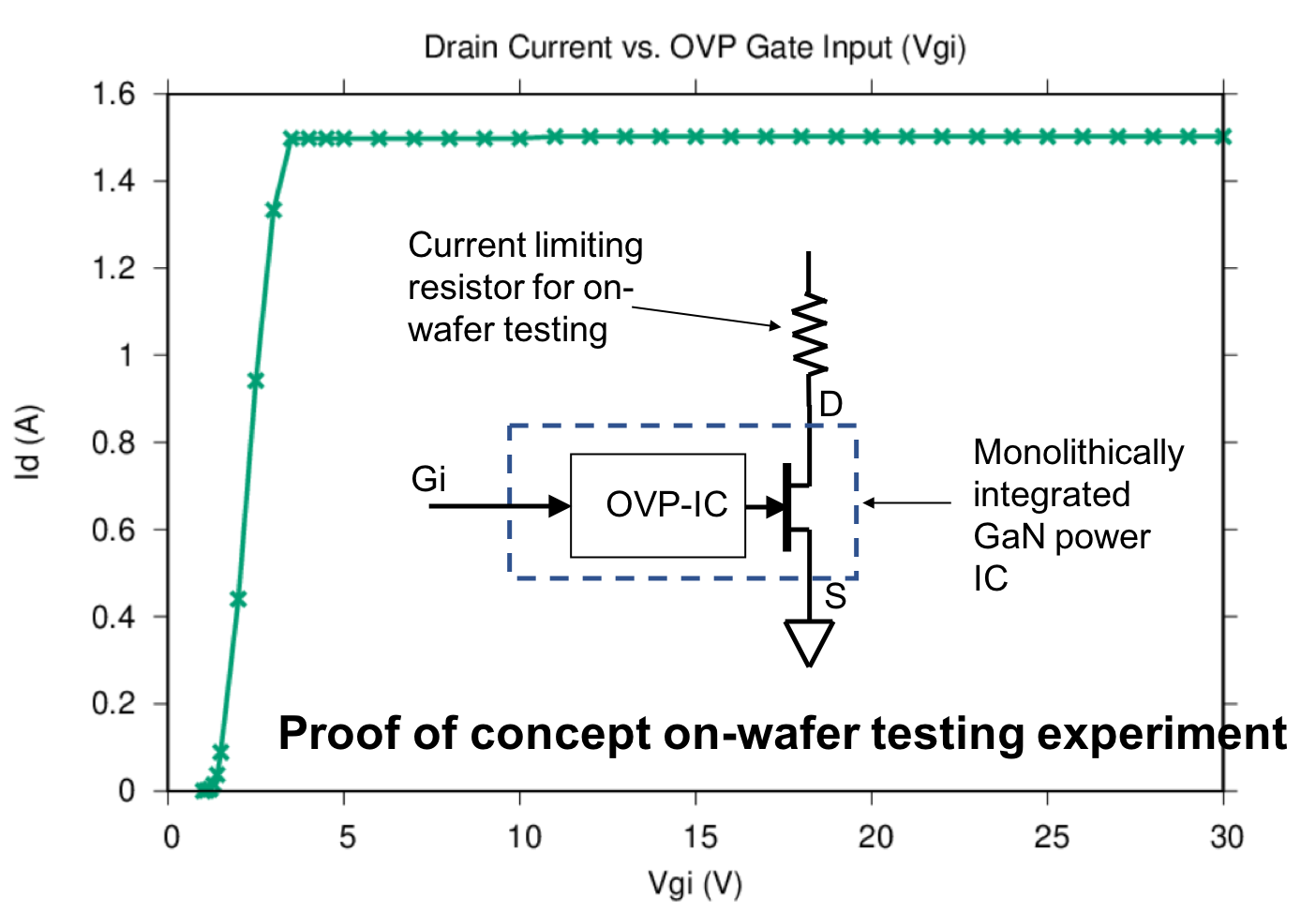 Ganpower International (GPI) is pleased to announce a major technical breakthrough: the successful design and tapeout of a power GaN device monolithically integrated with a gate over-voltage protection (patent-pending) circuit. The integrated GaN power device includes an IC module with functionality of over-voltage protection and level shifting and it shall be named OVP-GaN (or over-voltage protected GaN).
We believe the invention holds the key from the silicon world to the GaN kingdom. It serves two purposes: resolving the reliability issue of GaN perceived as causing by an over sensitive gate and offering compatibility with gate voltage (Vg) of existing silicon drivers. Typically Vg ranges from 4.5V to 20V in the silicon world. Our proof of concept on-wafer testing experiment indicates the OVP-GaN runs safely and performs well with Vg up to 30 Volt. Theoretically, it can withstand Vg up to 100V which is the breakdown voltage of the integrated circuit. Conventional GaN can only withstand about seven volts beyond which the forward-bias current of the Schottky gate increases exponentially causing irreversible damages. Effort is underway to package these devices in 650V, 15A and 30A ratings and we expect samples will be made available within weeks. GPI wishes to acknowledge collaboration with and assistance by its joint venture partner Ganpower Semiconductor (Foshan, China) Ltd and Residential Air Conditioner Division, Midea Group (China).
About GanPower International Inc.
GanPower International Inc. (GPI) is a Vancouver, Canada based private company with a focus on developing gallium nitride (GaN) based technology in power electronics. It was established by a group of professionals who believe that a sustainable future requires a responsible energy conversion solution and GaN material based power electronics holds the key to such a solution. GPI founders have a combined experience of more than 100 years in design of semiconductor devices, power electronics systems and power ICs. It is our goal to provide world class products of GaN devices, GaN based power ICs and GaN related power system solutions to our customers for a greener future.
About Midea Group
Midea Group is a Chinese electrical appliance manufacturer, headquartered in Beijiao, Shunde, Foshan, Guangdong. As of 2013, the firm employs approximately 100,000 people in China and overseas across 21 manufacturing plants and 260 logistics centers across 200 countries. Midea Group is listed on Shenzhen Stock Exchange since 2013. It has been listed on the Fortune Global 500 since July 2016. Midea produces wide ranges of lighting, water appliances, floor care, small kitchen appliances, laundry, large cooking appliances, and refrigeration appliances. It also has a long history in producing home and commercial solutions in air conditioning and heating (HVAC). In the summer of 2016, Midea made a highly publicized move to acquire German robotics company KUKA. It is the world's largest producer of robots and appliances.